CloudBees Announces the Partner of the Year Award Finalists
We are proud to announce that iTMethods has been named as a finalist for the CloudBees Partner of the Year Awards. The awards are given out each year at Partner Day, to recognize partners who have demonstrated:
1. Positive business impact on our common clients - 2. Commitment to developing new skills and increasing product adoption among clients - 3. The ability to deliver innovative solutions that improve client satisfaction.
This year's Partner of the Year Award ceremony will be held at Partner Day on September 27 as part of DevOps World 2022 in Orlando, Florida. See the full list of finalists here.
iTMethods deploys and maintains CloudBees to the highest standards on our Managed DevOps SaaS Platform. This allows our customers to stay current and optimized, while enabling their software teams to take full advantage of new CloudBees features as they are released.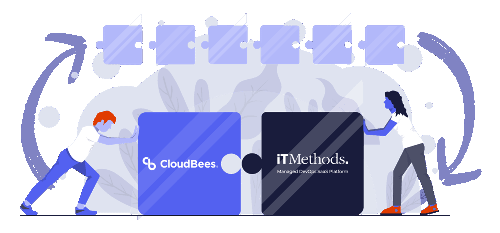 ---
About iTMethods
The iTMethods Managed DevOps SaaS Platform is helping digital first and highly regulated organizations solve their DevOps challenges. Our Platform allows customers to modernize their toolchain, take advantage of advanced features, accelerate overall time to value, while achieving higher levels of Security, Resiliency, Software Currency, Observability and Cloud Cost Optimization.
Our Platform provides organizations with a flexible and modern, fully managed DevOps set of capabilities. This allows organizations to focus their resources on higher value tasks better aligned with their business priorities.
If you want to learn more about how iTMethods is helping global enterprises deliver better software, faster and more securely, Talk to one of our Experts.