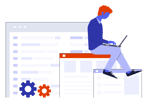 One Team - Expert Talks with Alex da Silva
Atlassian Certified Expert and Senior Consultant Alex Silva is part of the iTMethods Platform Services team, delivering high-value customer experience to global enterprise clients. With an unrelenting thirst for knowledge, Alex shares how he has been able to take his career to the next level.
How does iTMethods differ from other companies you have worked for?
At iTMethods, I feel that the leadership is always thinking about the well-being of the team. There is an embedded culture of listening to the employees' ideas and carefully analyzing them to implement. From the fireside chat with the CEO to 1-on-1 with your manager to weekly team meetings, there are several open channels to expose your ideas and ignite change. 
Over the years that I have been working here, many new policies and benefits have been implemented from employees' feedback. The recent "Flexibility to Choose 100% Remote or Office & Remote, Your Choice" policy - has allowed me to make a life decision to move out of the Greater Toronto Area with my family, to live and raise my children in a small town in southwestern Ontario.
I would also add that our learning culture encourages sharing knowledge through various means (lunch and learn sessions, project retrospectives, incident post-mortem, to name a few) within the organization and with our clients. Our team always has something new to learn, and we are constantly working on something new to add to our portfolio of solutions.
How has iTMethods supported your career development?
As a Consultant, I have been constantly challenged to apply my experience and develop new abilities. This has helped me to resolve complex problems and deliver solutions in several projects for big companies, across multiple sectors including financial, media, gaming and more. Working with these organizations has produced countless opportunities to sharpen my knowledge of world-class solutions within the cloud and DevOps space.
And the cherry on top is that iTMethods offers lots of opportunities to further your education and complete certifications. They have been crucial in supporting my career development, by funding all the courses and certifications I wanted to take on, whilst providing me a safe environment and resources to sharpen my skills.
Why do you believe iTMethods is a market leader?
iTMethods is always striving to be on top of the latest technologies for DevOps and Cloud solutions. Adding new tools and features to the platform constantly, ensuring security and compliance, and providing top-notch professional services and management & support, is what motivates our customers to share their success stories.
On top of that, we are always adding new logos on our client gallery and expanding key partnerships with tool vendors, enabling our clients to have access to experts who can provide specialized support and solutions.
What qualities do you look for in your team members?
Working in a team of professionals with various experiences and an environment with a plethora of different client challenges, I want teammates with a positive attitude, curiosity to learn, and problem-solving ability. No one has all answers, but we are One Team, and we encourage people to step in and search for a solution. We support each other by sharing best practices and learning experiences to ensure that we will provide the best solution for our client's problems.
Why should someone join iTMethods?
Because real humans are behind everything that we provide to our clients. Our team of tech-minded people offer their best ideas, iterate and automate solutions, share their passion for technology and want to impact peoples' lives. I can't even imagine how much great software products our clients have shipped so far, and they all relied on our platform to support their incredible software teams.
Our Benefits and Perks are great, and they keep getting better. Our Hiring Process is straightforward, and candidates know what to expect. Finally, we have several opportunities for talented people like you, who are looking to join our team on a mission to simplify and accelerate DevOps transformation one happy client at a time.
If you want to be a part of the team and build real-world innovation, iTMethods is hiring. To apply or learn more, please visit our Careers Page.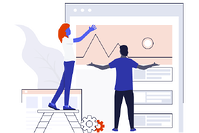 Want to learn more about our team? Check out some more blog posts.