Operations Support Specialist Mehdeep Gill is part of the iTMethods Platform Operations team. With a contagious enthusiasm for innovation and strong technical skills, Mehdeep shares his experience working at iTMethods.
What was your onboarding experience like when you joined the iTMethods team?
I was very fortunate to join a self-sufficient team at iTMethods. The support department serves as the first point of contact with our clients. Being a part of the operations team allows me and my colleagues to represent iTMethods daily and reinforce the company values through our customer interactions. With the manager's guidance and the help of my colleagues, I was able to learn the company values, morals, and SOPs very quickly. Moreover, access to the company's vast knowledge base, how-to articles, and training materials helped me get up to speed in no time.
What aspect of your role do you enjoy the most?
My role allows me to collaborate with various departments. These interactions give me an insight into their daily priorities and provide an opportunity to assist them in achieving their goals. Each day brings along a new puzzle, and solving these issues gives me a sense of fulfillment at the end of the day.
Why do you believe iTMethods is a leader in their industry?
iTMethods is helping its customers to achieve success by providing various services. For example, our DevOps SaaS Platform provides our customers with peace of mind by fully managing and maintaining tools that are critical for day-to-day operations. Helping clients across various industries ranging from broadcast media to financial institutions - iTMethods makes a significant contribution to their success and growth.
Why should someone join the iTMethods team?
iTMethods provides a collaborative and supportive work environment for employees in various phases of their tech careers. Working with a vast client portfolio allows you to gain a diverse skillset, experience, and knowledge. A positive work environment and great perks help drive employees to be the best versions of themselves at work and progress both professionally and personally.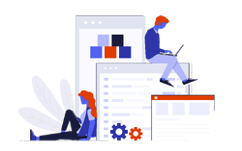 If you want to be a part of the team building real-world innovation, iTMethods is hiring.
To apply or learn more, please visit our Careers Page.
Want to learn more about our team? Check out some more blog posts.