One Team - Expert Talks with Rajiv Ravishankar
Today we put the spotlight on Rajiv Ravishankar, Cloud Operations Engineer. Rajiv is part of the iTMethods Platform Operations team delivering high-value customer experience to global enterprise clients. Employing his strong technical skills and willingness to learn, Rajiv shares how he has been able to take his career to the next level.
What drew you to iTMethods?
iTMethods has a great culture. Here, the best ideas win, regardless of who comes up with them. Openness is fostered to enable high-functioning teams to perform their best work under circumstances affecting critical service delivery. We work with some of the best and latest tools & technologies.
What has it been like working from home on a full-time basis during the pandemic?
Working from home has been a blessing. It has opened opportunities for moving out of the city closer to nature, which is something I intend to do in the future. It has also allowed me to travel more often and spend a lot more time with my family. Not having to commute is fantastic as well!
How has iTMethods supported your personal and career development?
For my career, iTMethods was the perfect choice to develop and hone my SRE and Cloud skillsets. Working with large and highly regulated industry-leading companies and the different challenges they bring, has provided me with lots of opportunities to learn and grow. The problems my team works on are challenging and change every day. This allows me to experience and learn from multiple different implementations, constraints, and scenarios I would not otherwise have a chance to be exposed to. I have had several opportunities to dip my toes in different areas of the SaaS platform lifecycle such as planning, deployments, handover, go-live, service improvements and daily operations/incident management. The ability to wear different hats and work with different teams to help implement meaningful organizational and procedural changes is fantastic is really rewarding too.
Why do you think iTMethods is a leader in the market?
Our team is made up of smart, talented people that provide excellent service to our customers. We consistently go above and beyond striving to improve in every area, internal and external, one iteration at a time.
What is the best part of your job?
The best parts about my job are having ownership and flexibility in deciding what projects I work on and when. The opportunity to engage in different areas of the business as well as being able to work with engineering teams from different organizations is also great. It provides perspective and experience that is usually hard to come by.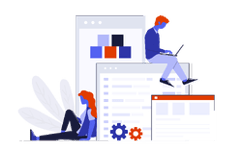 If you want to be a part of the team and build real-world innovation, iTMethods is hiring.
To apply or learn more, please visit our Careers Page.
Want to learn more about our team? Check out some more blog posts.