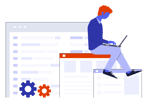 One Team - Expert Talks with Ivan Lima
Atlassian Expert and Senior Consultant Ivan Lima is part of the iTMethods A-Team, delivering high-value customer experience to global enterprise clients. Employing his strong technical skills and a willingness to learn, Ivan tells us how he has launched into his role leading a team in developing mission-critical enterprise solutions.
What drew you to iTMethods?
I was searching for an opportunity to be on the cutting edge of technology, and iTMethods resides on that edge by creating highly current solutions for clients who have some of the most demanding security and performance needs in DevOps. As a Consultant, I get to work on a diverse combination of skews and navigate complex problems; it's the type of work that keeps you sharp and propels you forward.
Why is iTMethods a leader in the market?
iTMethods is always looking for new ways to approach problems. We have the A-team here — highly talented people are working together, iterating and scaling on our solutions, and providing mentorship.
The people really do make a difference, and there is a great process here for hiring tech-minded people. It might not always be easy, but we're committed to finding the right talent because that's what sets us apart and allows us to drive true digital transformation for our customers.
How does iTMethods support your professional development and career growth?
Career development is very structured at iTMethods and approached through the categorization of educational and professional opportunities. On the education side, you can engage in training modules, educational planning, and certification — giving you the ability to study, learn, and evolve into new areas of expertise.
From the professional development standpoint, it's all about finding opportunities that you're interested in within the organization, making a plan, and setting yourself up to get to that next level with the full support of leadership. For example, I came into the organization as a Consultant but was able to develop my skills to the point where I'm now the expert leading a team of consultants. That's where I wanted to go, but there are many other opportunities to develop and grow, both personally and professionally.
How would a new candidate contribute to the overall success of iTMethods?
New team members are so important because they bring diversity in their perspectives. We're always working to improve, so it's important to bring in new people who have different ways of thinking. As we continue to grow, there are more and more possibilities to learn with and from one another — it's part of the way we're constantly innovating and evolving.
There are exciting opportunities for candidates to come in and share their ideas and expertise; iTMethods creates an agile environment in an industry that is constantly transforming and gives you the power to drive that transformation for clients.
If you want to be a part of the team and build real-world innovation, iTMethods is hiring. To apply or learn more, please visit our Careers Page.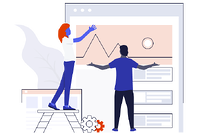 Want to learn more about our team?
Check out some more blog posts.