Support for Atlassian Server products will end on February 2024. This means that customers who are currently on Server, will need to move to Cloud or Data Center very soon.
And while Atlassian invested heavily in its Cloud-first strategy, continuously evolving and beefing up its Cloud offering, it doesn't mean moving to Cloud will be the right choice for every organization.
If you find yourself stuck in a Cloud vs. Data Center conundrum, it's worth asking yourself a few questions:
Is your business growing rapidly, and do you require faster scaling capabilities?

Do you

need to customize your tools to meet your business requirements?

Do you have a growing number of users spanning across various regions?

Are you in a highly regulated industry bound by strict security and compliance requirements?

Are your Atlassian applications mission-critical to your organization? Do need a phased approach to help with your transition to the Cloud?
While there are certainly many more considerations to factor in to make a well-informed decision, answering Yes to most of these questions might indicate Data Center is worth taking a closer look at.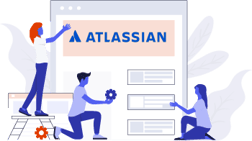 In search of the right option, some organizations end up compromising unique benefits only Cloud can deliver - like saying goodbye to downtime, maintenance, and infrastructure headaches – in lieu of anchoring the systems on-premise, a decision usually mandated by stringent data security and compliance demands.
For organizations looking for the ease of use of a SaaS solution, but who are not able to switch to Atlassian Cloud yet, either because of gaps in functionality, internal resource constraints or compliance reasons, iTMethods offers a solution. Our certified managed/SaaS service provides the best of both worlds: delivering the benefits of SaaS – such as eliminating IT overhead and maintenance - combined with the powerful scaling and security controls of Data Center.
Here are the key outcomes you can expect when you run Atlassian Data Center as SaaS on the iTMethods Managed DevOps SaaS Platform.
Complete bespoke control
The environment and security controls can be set up to meet your specific requirements. You'll get full control over your disaster recovery solution.
For highly regulated customers, iTMethods provides a fully private deployment of the Managed DevOps SaaS Platform that is only accessible through private connections. This deployment model combined with other security controls related to authentication and authorization, provides greater security around access control. Observability is built into each customer deployment on the iTMethods Platform to meet and exceed enterprise security standards.
Given the pressing need for security and controls in DevOps products, our platform embeds security and governance from the ground up for your organization's entire toolchain. We provide Single-Tenant hosting and our Transit Hub hybrid connectivity service allows seamless integration to your networks while complying with multi-cloud and on-premises security controls.
Our managed security and governance services are SOC2 Type 2 compliant and designed to help organizations effectively navigate both internal and industry compliance requirements. We work in close partnership with our customer's IT and product teams to help them focus on building and deploying applications faster, rather than managing their underlying infrastructure.
Continuous innovation
iTMethodsManaged DevOps SaaS Platform helps organizations rapidly modernize their development and operations workflows in a sustainable way, without incurring technical debt, and easily maintain the tools on which their modern workflows depend. This gives everyone in the engineering organization the ability to focus more on solving engineering problems and delivering better products for their customers.
When you're not managing physical hardware or hosting, you are now free to redistribute time and energy to other business needs.
Lower total cost of ownership
Running Atlassian Data Center as SaaS on the iTMethods Platform, means your team doesn't have to worry about managing any on-premise systems or cloud infrastructure. Our team of certified Atlassian experts will take care of infrastructure and systems management, updates, and other operational concerns like monitoring and troubleshooting.
You won't have to worry about server compatibility or hardware updates, and many (though not all) of the compliance and security tasks can be delegated to the SaaS provider.
Finally, moving to Atlassian Data Center and consuming it as a SaaS can help eliminate some of your IT overhead, maintenance, and hardware costs, since you're no longer responsible for many of the costs associated with hosting and operating your Atlassian products.
Tight integration
iTMethods enables tighter integrations and management both between Atlassian products and with other tools in your DevOps toolchain. This also includes hybrid network connectivity supporting on-premise and multi-cloud support.
Increased compliance
iTMethods can operate in any region supported by cloud providers, allowing your organization to meet data residency requirements. As you specify security controls or compliance requirements, we ensure they are met or exceeded.
Even if your end goal is to move completely to Atlassian Cloud in the future, partnering with iTMethods now can help you get all the benefits of a SaaS solution as well as functionality and compliance that aren't on the Atlassian Cloud roadmap for several more years.
iTMethods Managed DevOps SaaS Platform
Not all companies are going to be ready for Atlassian Cloud immediately. For organizations that aren't ready to move to Atlassian Cloud, we offer a fully managed SaaS platform running Atlassian Data Center as SaaS, serving as a stepping stone that provides the best of both worlds.
Speak with an expert to find out how we can help you navigate away from Atlassian Server and get the most out of the cloud.