One of the main hesitations organizations have about moving Atlassian Enterprise Deployments to the Cloud is related to compliance. These are completely valid concerns. While Atlassian Cloud offers security suitable for many companies, those requiring a higher standard of data residency, industry compliance, and data security may find their multi-tenant Cloud doesn't offer as robust of compliance certifications as organizations can get by running Atlassian Server or Atlassian Data Center on-premises. While Atlassian's Cloud roadmap does include some compliance certifications, both available now and others that will be available in the coming years, they don't cover all the possible frameworks organizations could have to comply with.
For organizations either in highly regulated industries or who operate in jurisdictions with strict rules around privacy and data residency, this can be a real hurdle to Cloud adoption. Fortunately, it does not mean that you can't take advantage of the efficiencies of a SaaS-based approach. You just need a strategy that takes the compliance needs into account at the beginning.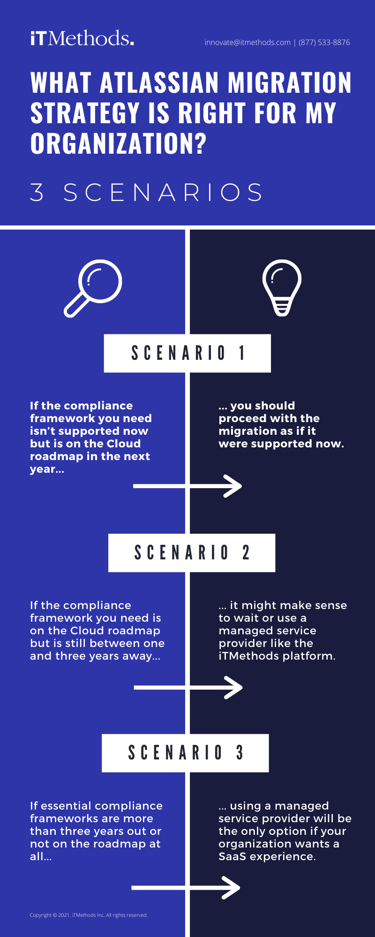 In general, our advice is that if the compliance framework you need isn't supported now but is on the Atlassian Cloud roadmap within the next year, you should proceed with the migration as if it were supported now. By the time you are actually ready to move to the Cloud, they will be in place. This doesn't necessarily mean that moving to Data Center, either on-premises or as a managed service, isn't a good idea, just that if you choose that route it should be for reasons other than the compliance certifications.
If the compliance framework you need is on the Cloud roadmap but is still between one and three years away, it might make sense to wait, but it also might make sense to use a managed service provider like iTMethods to offer a more secure and managed single-tenant Cloud solution for your needs. The right choice depends both on how eager you are to stop managing your on-premises Server deployment, as well as whether or not there is additional functionality you could get from a managed server provider that you need (or want), but that isn't scheduled for release in Atlassian Cloud anytime soon.
In the third scenario, in which there are essential compliance frameworks that are more than three years out (or not on the roadmap at all), means that using a managed service provider will be the only option if your organization wants a SaaS experience. Indeed, you'll need to choose some version of Data Center, to operate on a single-tenant Cloud instance, because you'll need to move away from server before the compliance certifications you need are available in Atlassian Cloud. Using a certified Atlassian managed service provider like iTMethods provides a similar experience to Atlassian Data Center — which is the platform the managed service is based on. But it can run in any AWS region, and supports a much broader suite of compliance certifications and data residency.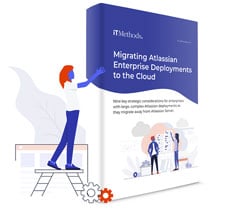 We recently wrote a white paper that goes over in detail the options available to organizations, including those in regulated industries, when it comes to migrating away from Atlassian Server and embracing a cloud-based approach. Learn more about how to build a solid migration strategy, manage security and compliance and getting the most out of the cloud.
Considering how to migrate your Atlassian Enterprise deployments to the Cloud? Download the white paper now.
---
About iTMethods
We are an Atlassian Enterprise Gold Partner and authorized MSP specializing in Atlassian Cloud and Migration solutions. Successfully operating for over 15 years, we are also a market leader in enabling Enterprise DevOps. Our proprietary Managed DevOps SaaS Platform enables companies to integrate, migrate, and modernize their multi-vendor, multi-cloud toolchain so they can build better software, faster and more securely.
Our capabilities include supporting 45+ DevOps tools from leading vendors such as Atlassian, CloudBees/Jenkins, GitHub, SonarSource, GitLab, and many more. These tools are deployed to each customer's specific requirements, including security, scalability, and 24/7 customer support.
Learn more at www.itmethods.com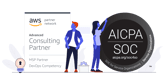 Read more from iTMethods: