We empower businesses with our robust Cloud Infrastructure and Container Services. In this post we will guide you through our offerings, specifically designed to help you maximize efficiency, drive growth, and leverage the full potential of AWS, Azure, and Kubernetes.
A Tailored Approach to Cloud Services
We understand that every business has unique needs and objectives. Our flexible model allows us to partner with clients at any stage of their Cloud Infrastructure journey. We tailor our services accordingly, helping businesses deploy and manage their cloud infrastructure effectively, thereby maximizing efficiency and driving growth.
Comprehensive Analysis and Strategy Development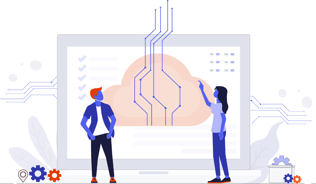 Our services begin with a thorough analysis of your existing cloud infrastructure and container deployments. We identify areas for improvement and opportunities for leveraging AWS, Azure, and Kubernetes.
We collaborate with clients to understand their business objectives, technical constraints, and stakeholder expectations. This collaborative approach helps us to develop a cloud strategy and an infrastructure blueprint that aligns with your business goals and IT strategy.
Expert Implementation and Integration
Our team of experts ensures the smooth integration of cloud solutions with existing CI/CD pipelines, monitoring, and security tools. We then set up AWS, Azure, and Kubernetes environments based on the defined strategy and design. We also manage container orchestration using Kubernetes for optimal application scalability and reliability.
Prior to deployment, the cloud infrastructure is thoroughly tested for consistency and validated against security and compliance policies, ensuring a seamless transition of infrastructure management responsibilities to the cloud-enabled platform.
Ongoing Support and Maintenance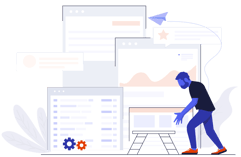 Our commitment to your success extends beyond deployment. We offer ongoing support services as part of our flexible subscription plans. This includes continuous technical support for troubleshooting and addressing cloud infrastructure-related issues, regular assessments of cloud solutions for alignment with evolving business needs, and updates to ensure compatibility with newer versions and features of AWS, Azure, and Kubernetes. Our subscription also provides access to exclusive resources, latest features, and expert insights to optimize your cloud investment.
Key Benefits of iTMethods Cloud Services
Choosing our cloud services provides a host of benefits. Clients gain access to experienced AWS, Azure, and Kubernetes practitioners and thought leaders. We help you avoid common pitfalls and challenges associated with cloud infrastructure deployment and management. Additionally, we ensure the highest security and compliance objectives are implemented and maintained throughout your cloud journey. All our solutions are tailored to your unique business needs and objectives.
Conclusion: Empower Your Business with iTMethods
Our DevOps and Cloud Services platforms are powerful tech-enabled solutions that help your teams perform at their best. As a global leader in Enterprise DevOps Tools and Tools Management, our solutions and platforms are designed to empower teams to use technology smarter, work faster, save money, and grow.
We look forward to partnering with you on your cloud journey.