It has been a decade since Mark Andreesen made the case that "Software is eating the world", and that "every company is a software company" in the Wall Street Journal article. Those arguments have stood the test of time well and are more relevant today than ever thanks to the acceleration of a global workforce driven by COVID.
As we've seen in the past decade close to 50% of the Fortune 100 companies have lost their place on that list.
Companies that come out on top are the ones that can embrace digital transformation, modernize themselves into effective software corporations and quickly respond to evolving customer demands. History shows us those who cannot evolve will be left behind.
When it comes to DevOps Transformation one key aspect to keep in mind is the tooling, which you can look at in a couple of ways: 
The actual tools that software teams choose to use.

The way those tools are deployed, modernized and maintained in the cloud. 

  
In this blog post we will cover the reasons why companies want to consume their DevOps tools as SaaS, challenges they face on the way there and how iTMethods' DevOps SaaS Platform addresses them.
When talking to customers we often come across these 5 common challenges facing enterprises today:
1. Need to focus their limited resources on business priorities
Attracting and retaining top technical talent while maximizing the benefit they get out of the resources is a substantial challenge for any organization.    
Rather than have their resources focus on learning about how to deploy, migrate and manage a set of tools, companies want to focus on things that differentiate them from their competition,  delight their customers and enhance their bottom line .  
If you're a bank, this could mean developing the next great new banking product or maybe improving the customer experience. If you're a digital gaming company, maybe that means getting that new release to market faster or figuring out new ways to monetize features within a game.
Companies cannot afford to have scarce resources allocate time on activities that do not add value to their organization. Significant time-consuming tasks include tool upgrades, security patching, and monitoring the performance and overall availability.
2. Software currency
The ability to keep tools at the current version is a challenge for many organizations. Having tools that are not kept up to date creates problems in many areas: 
The developer community is not happy – they want bug fixes and new features that can make their lives easier.
Delayed tool upgrades have a domino-effect of impact on the business. The organization could be relying on legacy features that are not supported in newer versions, have a version that is no longer supported by the vendor that could impact business continuity and risk significant exposure from a security standpoint. 
The further behind you fall, the more difficult it is to catch up. So instead of a series of small, non-impacting upgrades, companies are left with a mammoth migration project. These gaps require immediate attention and usually at the expense of established business priorities.
3. Operating Securely In The Cloud 
In 2021 companies know they need to move their tools to the cloud in order to achieve the availability and scalability outcomes they desire.  However, not all companies have internal resources with experience and expertise to deploy, migrate and manage existing tools on the cloud while adhering to best practices. 
Perhaps the most important concern that companies have, and rightfully so, is security.  You only need to watch the recent headlines to understand the risks that companies can face if they don't prioritize security.   
Gartner's recent March Survey of CIOs found that Security Operations topped the list (out of 20 categories), with 74% of CIOs planning to increase staffing in this area. 
4. Functional Expertise Gaps 
Not having enough internal resources to support a particular tool or project can be a challenge on the way to digital transformation. Particularly, if it increases the turnover of key talent due to the overwhelming obligation that comes with managing infrastructure versus delivering on more strategic projects.
Rapid changes in the features of the tools add a layer of complexity that requires employees to be continuous learners. If turnover does occur, it will often leave a void of knowledge that the organization cannot easily fill. These factors contribute to the organizational lack of depth of expertise in a particular tool.
5. Ability to Execute Quickly  
A lot of companies are behind schedule while feeling industry pressure to move quickly at the same time. They may also be tied up with complex onboarding procedures required to onboard new vendors.
Once companies embark on their DevOps transformation journey, they generally find balancing resources and meeting business demands can conflict with managing critical infrastructure projects.
Bottom line
The complexity of today's large enterprise creates multiple challenges to the pace of DevOps innovation. iTMethods helps Accelerate your Digital Transformation with our Managed DevOps SaaS Platform. We integrate all the DevOps tools your teams already use into a seamless toolchain enabling an automated, streamlined and fast software delivery.
iTMethods provides
A Managed SaaS Model
Deploy our Managed SaaS single-tenant environment(s) in an AWS region of your choice. Managed 24/7 with enhanced security, access controls, connectivity, monitoring, maintenance and upgrades that allow your organization to focus on critical business objectives
A Cloud-Native Toolchain


We take the complexity, resource strain and risks away while delivering a fully managed integrated and secure DevOps toolchain in the cloud.
Solutions Built for the Enterprise


Constantly evolving from a features set and security posture, our

SOC 2 Type-2

and

AWS MSP Certified

platform, are key credentials of a partner you can trust.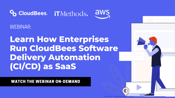 Watch our recent webinar to learn how iTMethods' Managed DevOps SaaS Platform addresses the challenges facing enterprises today. We enable global enterprises to integrate, migrate, and modernize their multi-vendor, multi-cloud DevOps environments to deliver the best business outcomes.
Want to learn how iTMethods' Managed DevOps SaaS Platform will accelerate your Digital Transformation and enable your organization to scale?