Welcome to our series of Meet the Team blogs. In this post we would like to introduce you to our Senior Operations Manager, John Hayes as he shares some insight on his experience about what it is like to work at iTMethods.
How does iTMethods differ from other software companies?
There's always something new to learn. At iTMethods, we offer technology and services. Here you are not just building software for the end-user once; here you are always working on something new and different - a new client, a new tool - and then sharing that knowledge across the organization. What attracted me to the company, and what keeps me at iTMethods now, is my passion for DevOps and the learning culture.
I would also add that what makes us even more unique is that we provide DevOps tools as a service, focusing on the in-depth experience of our customers - big banks, media organizations, major streaming platforms that are nationally and globally recognized. We work with exciting companies on some of the most interesting projects.
How does iTMethods support your professional development and career growth?
It's not just a bunch of certifications. At iTMethods you will find a mix of highly experienced team members and many who are at an earlier stage in their careers and everything in between - and we are all learning and growing all the time, together, in tandem. Through a combination of training tools and development plans, people can come in without the expertise and rapidly scale up feeling supported every step of the way. You don't just get a bunch of certifications - you actually get ample opportunity to implement your knowledge and become practical experts in the tools we deploy.
Open (virtual doors) and collaborative teams. This may sound a bit cliche - but at iTMethods we believe openness and collaboration is core to success in business. Any team member can approach senior leaders such as our CTO, Engineering leads, or myself with a question or a problem. Through lunch-and-learns, you can share what you've learned, tested, or built. And, we recognize the work of individuals and teams when they make a particularly meaningful contribution.
What was the transition to working from home like?
Flexible. At iTMethods, we had a hybrid WFH culture with the technology in place; so, when Covid rapidly became a threat, we transitioned quickly. Today, everyone at iTMethods has the equipment they need and access to communication platforms and processes to help them succeed. In addition, we conduct weekly all-team social calls to check in on everyone's well-being, as well as host a virtual party at the end of the year. We intend to maintain a fully remote culture going forward for those who prefer it - work where you work best.
What are you looking for in team members?
Problem solvers and intellectual curiosity. As a leader hiring for my own team, I want people with the drive and ability to solve problems. That doesn't mean you have all the answers. You can't be an expert in everything, so you need to know your limitations and ask for help and seek out solutions. I'm looking for people who want to own customer problems, who know how to formulate solutions, and who want to be challenged by complex client problems every day.
Why should someone join your team?
The sky's the limit. There is a pipeline of new work, new tools, and exciting new customers at iTMethods. Joining now is truly an endless opportunity to learn and grow your skills quickly on a large scale. When you are working at a traditional software company, you are solving the in-house DevOps problem one time. At iTMethods, you solve the problem and manipulate that solution for different customers. Everything you learn and do here is cutting edge and will contribute to accelerating your career path. When you join us, that's our employment promise.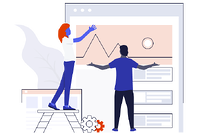 Want to learn more about our team? Check out some more blog posts.
Want to join our team? Check out our Careers Page.